Spectrek
What is Spectrek - simply used spectacles are collected from participating Lions clubs at a number of designated pick-up points, including Farnham Hospital, doctors and optician surgeries and more. They are then passed to Chichester Lions Club for initial sorting prior to optical grading and onward despatch to Third World Countries. Spare frames are then recycled removing precious metals and this money raised is used for sight projects in the UK.
Many of these spectacles lenses are given to patients treated at Eye-Camps, which are often sponsored by Lions Clubs. Farnham Lions Club has participated in SpecTrek for many many years,and reckon to have collected over 275,000 pairs in that time. We collect used spectacles from Lions-labelled boxes we have placed in local Opticians, Doctors, Hospitals and from individual members of the public who pass them on to us. The value of these spectacles to those people with impaired sight in Third World Countries cannot be over-emphasised, and participating in SpecTrek must be counted as one of the most worhwhile jobs we do. Thanks to everyone who took the trouble to donate their used specs and to the opticians who collected them on our behalf.
On the basis that a picture paints a thousand words, below is a picture of our most recent collection - a whole car boot full of old and discarded spectacles, being taken down to Chichester by Lion Mandy. If you have spectacles to donate, please don't throw them away, either place them in the collection boxes around town or contact us on our page above and we can advise your nearest location. Thanks in advance for your help.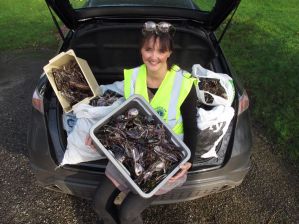 LATEST NEWS - SPECTREK NOW TAKES HEARING AIDS AS WELL
You can now recycle unwanted hearing aids and they will be put to great use for charity. Just put your unwanted old hearing aids in any Spectrek bin along with any unused pairs of old glasses.
BINS ARE LOCATED IN AND AROUND FARNHAM IN MANY OPTICIANS, SURGERIES AND AT THE FARNHAM HOSPITAL OUTPATIENTS AREA